Efficiently classic car transporters services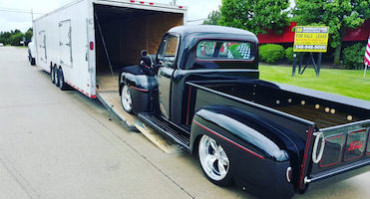 Handling classic car transporting isn't an easy task. It requires higher level of responsibility and care, since the cargo isn't a standard car, but a high-value or a rare vehicle which should be transported with maximum protection and attention. That is why, we strongly recommend to transport classic cars exceptionally on enclosed carriers. Undoubtedly, the main plus of this shipping method in comparison with open transportation is that it has more comprehensive insurance and totally protects your vehicle from outside elements. Nevertheless, let's go into details and see what makes enclosed shipping the best option for classic car transport.
What type of shipping to choose for transporting classic cars?
When you look for vehicle shipping methods, you will come across two options - open-air transport and enclosed shipping.
Open carriers don't provide proper protection to vehicles as they don't shelter the cargo from outside elements, so it may get damaged by rocks, road debris, extreme weather conditions, etc. Enclosed trailers cover the car from all the sides providing maximum protection during the delivery. What is more, enclosed carriers are equipped with special hydraulic gates and ramps used for safe loading and unloading of vehicles. So if you need to ship a low ground clearance automobile, this is the best option.
Although most classic car transporters prefer the enclosed shipping method, there are cases when there is no need for additional protection. For example, if you need to transport classic car which is more of a 'fixer-upper' rather than a valuable asset, you can ship it on an open carrier.
However, when your vehicle is a high-value investment and you don't want to risk its safety, you should regard no other options except classic car transport services. Moreover, if your vehicle has loose elements, an enclosed carrier will ensure that all these elements are secured properly inside the container.
And one more thing to take into account when choosing the type of classic car transport service, is that enclosed auto transport has better insurance coverage.
What should you pay special attention to when choosing classic cars transport?
If you want to protect your vehicle during classic car transporting, you should choose a reliable company with vast experience and positive reviews. We have prepared a list of things you should pay attention to when selecting the company to work with.
Classic car transporter insurance and registration
In general, classic cars transport has more comprehensive insurance in comparison with open-air shipping. Nevertheless, you'd better check in advance what exactly the insurance policy includes and what you will get in case of any accident while on the transportation.
Registration of the classic car transporter is no less important. Before signing any documents, check the registration number of the shipper, its license, and all the necessary permits for vehicle transportation.
Drop-off and pickup locations
When choosing a classic car transport company, you are most likely to be offered to select between door-to-door and terminal-to-terminal delivery. Door-to-door delivery has a higher classic car transport cost as it is more convenient and less time-consuming. The main downside of the terminal-to-terminal option is that not all companies have enough terminals around the country. Another disadvantage is that if you won't accept your vehicle within the pre-agreed period, you may have to pay additional fees for long storage.
Thus, try to choose the company which will fit your needs the best way. Don't forget to warn the shipper, if your initial or final locations are situated in hard-to-reach areas.
Reviews on classic car transport service
Online reviews are one of the best indicators of the company's reputation and trustworthiness. They can be rather informative and useful when you are not sure about the quality of classic car transport services. Visit the company's website, find testimonials by verified customers and don't forget about such resources as Google reviews, Better Business Bureau, and Transport Reviews. Do some research to find out what the company says about itself and what other people say about their services.
Shipping period for transporting classic cars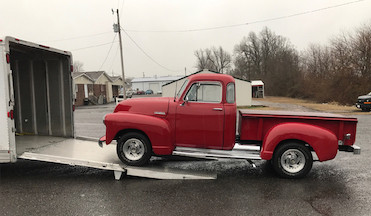 When you request a shipping quote, classic car transporters provide a shipping window for you to fit in. Generally, this is a period of 5-20 days. However, if you want to have your car transported as soon as possible, you can ask for expedited shipping. In this case the vehicle will be picked within 24-72 hours and will be delivered to the final destination as soon as possible. Pay attention to the fact that the number of carriers which transport classic cars is limited, so you'd better plan your vehicle transportation in advance.
Classic car transport cost
Undoubtedly, you will want to save money when you transport classic car. But choosing the company which has the lowest classic car transport cost isn't a good idea. Classic and antique vehicles require special attention and they should be handled with extreme care. All these additional protection measures add to the final price of shipping. So you should understand that when you choose the cheapest option, you risk losing adequate service, since low classic car transport cost may hide additional fees and extras or this may be classic car transport service with insufficient insurance and other drawbacks.
NB! Never make any advance payments, until you are assigned a carrier and your shipping date is approved. Make sure that the deposit you pay upon the pickup is included in the final quote. Pay the rest of the sum only when you have checked the condition of your vehicle and only if you are satisfied with the classic car transport services and have no claims. Don't agree to any unexpected rate increase!
In conclusion, we would like to advise you to choose the classic car transporter with the best ratio of quality and price. The one which is guided by a customer-oriented approach and meets all your needs and requirements. Don't be afraid to talk about your preferences and ask for online tracking, if any, or at least get the driver's contacts in order to be timely updated on the shipping status.