Hire an open car transporters carriers company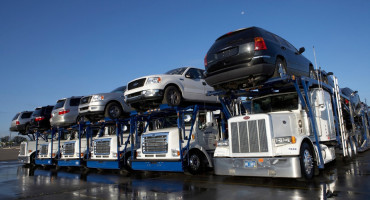 Open сar сarriers are the most common and cost-effective means of moving cars short or long distances. With open-air car shipping, your vehicle is transported in an open car trailer. It simply means that the trailer portion of the carrier is an open framed structure that can hold an average of 8-10 cars in one load. Because so many cars can be hauled at once, the cost per car is lower, making it more affordable to ship your vehicle via open transport.
What is an open transport car?
Open transport car shipping companies use long (typically between 75 and 80 feet in length), two-level trailers with a long row of cars on the top level and a shorter row on the bottom one. There also exist single-level trailers that are used for luxurious vehicles or expedited deliveries and dual trucks with single-level tow trailers that are used for short-distance and local deliveries. There are no sides and no roof on the open-air trailer, so the vehicles are exposed to the elements. Open car transporters are suitable for any type of vehicle and more affordable than enclosed auto transport, so it is much more commonly used. The majority of vehicles (about 90%) are shipped via open auto transport.
Is open car transport safe?
Even though your vehicle is exposed to the elements during open transportation, the construction of the carrier, together with the linear arrangement of the vehicles renders the chance of your car getting damaged a rarity. Your car is much more likely to be damaged while driving than when it's secured in a carrier. In the unlikely event that your vehicle does encounter an incident, rest assured that it is fully covered for any damage sustained.
Advantages of open car transport
According to ​​open car transport reviews, open-air transport is the most affordable auto transport option. Open car transport is the industry's standard, so there are more open car carriers available, transporting along more routes. This makes open transport very flexible and means that you can easily secure an open-air car shipping service on short notice. Open transport car shipping is very efficient as more vehicles can be transported with each shipment – seven to ten vehicles can be loaded onto a two-tier trailer and shipped at once, which saves fuel and time on the road and, therefore, money. Open auto transport is faster than enclosed auto transport due to the greater number of open car carriers and the efficiency of open auto transport. Open carrier car transport suits all types of vehicles, regardless of their size, height, weight, or model. The driver can easily inspect the vehicles during transport and see whether everything is alright with one look at the side mirrors. An open-air trailer is lighter than an enclosed trailer, which means that it uses less fuel, thus protecting the environment and reducing fuel costs.
How much does an open car transport carrier cost?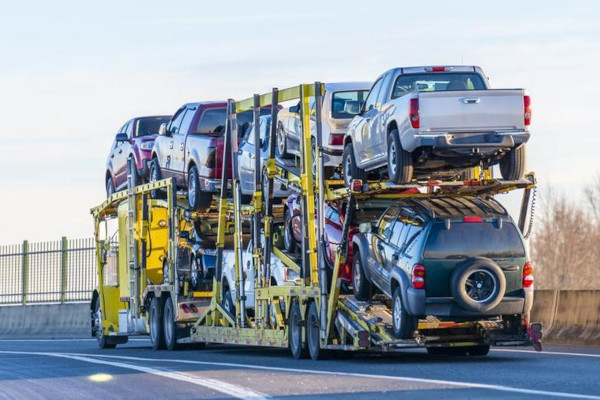 The average cost for the open air car transport is generally $.30 to $.50 per mile, depending on the type of automobile. If your move consists of transporting standard daily vehicles the open carrier transport is your preferred choice and is more affordable than an enclosed auto transport option.
Is open car carrier transport cost-effective?
And the answer is yes, it is. The popularity of open car carriers ensures a wide selection of trucks is readily available to accommodate your auto transport needs. Abundant supply means competitive prices to attract more business. Large capacity trailers hold more vehicles which lowers the per-car cost making it more affordable for you. Quality construction and secure rigging ensure that your vehicle will be safe and sound on its journey. Car dealers utilize open car transport regularly to move inventory of brand new vehicles – why wouldn't you?
Disadvantages of open car transport
Open car trailers are open-air which means that vehicles are exposed to the elements and have no protection from the weather (rain, snow, sleet, hail, etc.). The vehicles on an open car trailer are not well protected against dust and potentially damaging debris that may get kicked up on the road. Cars shipped in an open trailer aren't individually covered, so your vehicle may arrive dirty and in need of a wash. You should also note that the insurance doesn't cover road hazards. We also can help you move your office chairs or other furniture.
When is an open car transport company not recommended?
An open car carrier suits most customer's car transporting needs because of its affordability, availability, and dependability. However, there are times when it is not the right choice for your move. Is your car a classic, antique, or custom vehicle? Is it a high-priced luxury model or an exotic sports car? Does it have low ground clearance (under 5 inches)? If you answered yes to any of these questions, an enclosed trailer transport may be a better choice for you. While damage claims are rare on open carriers, the potential cost of repairing and restoring your vehicle may be more than what standard insurance covers. Enclosed transports come at a higher price, but the peace of mind that comes with the extra protection is well worth it.