FMCSA Pilot Would Allow Younger Drivers in Interstate Commerce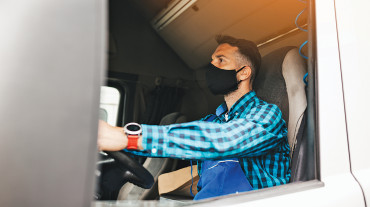 The Federal Motor Carrier Safety Administration has announced a proposal and request for comment on a new pilot program to allow drivers ages 18-20 to operate commercial motor vehicles in interstate commerce.
A Sept. 4 Federal Register notice said the agency proposes to allow 18- to 20-year-old commercial driver license holders to operate CMVs in interstate commerce while taking part in a 120-hour probationary period and subsequent 280-hour probationary period under an apprenticeship.
The proposed pilot also would allow participation by 19- and 20-year-old commercial drivers who have operated CMVs in intrastate commerce for a minimum of one year and driven 25,000 miles.
"The study group drivers would not be allowed to operate vehicles hauling passengers, hazardous materials or special configuration vehicles," the announcement said.
FMCSA said the apprenticeship would include two probationary periods, during which younger drivers would operate CMVs under the supervision of an experienced driver and would be required to achieve specific performance benchmarks before advancing.
Under the proposal, study group participants also would drive vehicles equipped with active braking collision-mitigation systems, forward-facing video event capture and speed limiters set to 65 mph.
"This action will allow the agency to carefully examine the safety, feasibility and possible economic benefits of allowing 18- to 20-year-old drivers to operate in interstate commerce," FMCSA Deputy Administrator Wiley Deck said in a statement. "Safety is always FMCSA's top priority, so we encourage drivers, motor carriers and interested citizens to review this proposed new pilot program and share their thoughts and opinions."
Spear
American Trucking Associations President Chris Spear said, "This is a significant step toward improving safety on our nation's roads, setting a standard for these drivers that is well beyond what 49 states currently require. This is an amazing block of talent with unlimited potential."
The pilot program has a similar intent to the DRIVE Safe Act, which also aims to bring younger drivers into interstate commerce. That legislation is strongly supported by ATA and more than 40 other industry groups. The bill has strong bipartisan support and currently is co-sponsored by 144 congressmen and 34 senators.
"As an industry, we need to find new ways to connect with potential new drivers," said ATA Chairman Randy Guillot, president of Louisiana companies Triple G Express and Southeastern Motor Freight. "By providing young people the opportunity to fully participate in the financially rewarding and dynamic world of trucking, we will be in a better position to bring in a new generation of valuable talent to our industry."
FMCSA said that, currently, 49 states and the District of Columbia allow 18- to 20-year-old CDL holders to operate CMVs in intrastate commerce — meaning under-21 drivers may drive within state borders, such as from Houston to El Paso (about 747 miles) or from Miami to Tallahassee (about 480 miles).
The Military Commercial Driver Pilot Program will allow a limited number of younger drivers to drive trucks interstate as long as they possess the military equivalent of a CDL and are sponsored by a participating trucking company. (Sgt. Jason Fetterolf/U.S. Army National Guard)
The proposed pilot comes after a July 2018 announcement outlining details of the Military Commercial Driver Pilot Program, which allows certain 18- to 20-year-olds with military training to operate CMVs in interstate commerce.
It also follows a May 15, 2019, Federal Register notice requesting public comments in a number of areas for a possible pilot program for younger drivers.
The May 2019 notice sought public comments on specific questions regarding training, qualifications, driving limitations, operational and participation requirements, insurance, research and data, and vehicle safety systems that should be considered in developing the second pilot program for younger drivers.
The Sept. 4 notice also addresses comments received on the 2019 notice and seeks comments on the new announcement for 60 days.
The agency received 1,118 comments on the 2019 notice — 504 commenters favored the proposal and 486 opposed it. More than 1,000 individuals and 95 organizations commented, FMCSA said.
Of the total, more than 750 were unique. The rest were form letters that urged the agency to initiate a program focused on shorthaul drivers.
FMCSA said organizations that favored the program included:
American Trucking Associations
Agricultural Retailers Association
American Bakers Association
Arkansas State Highway Commission
Commercial Vehicle Training Association
DriverReach
Hudson Insurance Group
Intermodal Association of North America
International Association of Movers
International Foodservice Distributors Association
International Franchise Association
National Association of Publicly Funded Truck Driving Schools
National Interstate Insurance
National Propane Gas Association
National Ready Mixed Concrete Association
National Retail Federation
National Tank Truck Carriers
Towing and Recovery Association of America
Truckload Carriers Association
Those opposing the initiation of a younger driver pilot program were: Advocates for Highway and Auto Safety, Citizens for Reliable and Safe Highways, Governors Highway Safety Association, Insurance Institute of Highway Safety, Owner-Operator Independent Drivers Association, Parents Against Tired Truckers, Trucking Alliance and several private citizens, motor carriers and other professional trade associations.
Numerous private citizens, motor carriers, training schools, state trucking associations, logistics companies, risk assessment companies, information technology companies and other professional trade organizations offered full or conditional support for the program.