How Technology is Impacting Fleet Fueling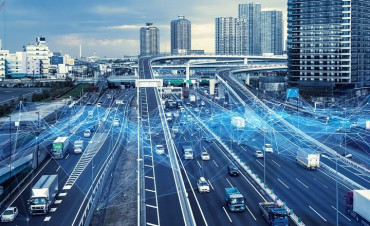 Mobile apps have radically changed how everyone operates in their lives, with much of what we do on a day-to-day basis having some functionality available through an app, whether its online shopping, finance managing, virtual communication, etc. It is understandable that this will be more common to fuel purchases, too, moving forward.
Traditional fueling technology by use of a fuel card with embedded EMV microchip technology is becoming more antiquated. Regions like Europe and Australia have more consistently incorporated tap-and-go technologies into the payment methodologies of their everyday lives.
However, the United States has trailed when it comes to more widespread adoption for this type of tech, but contactless payment will inevitably become a common method of fuel purchasing in the states, too, predicts Justin King, senior VP of product and innovation, Comdata.
To us the plastic card is simply a form factor. I don't believe that plastic cards are going to be around in 20 years," he said, and added that all the major players in the fuel payment industry have plans to move in this direction, too.
In the case of Australia, a study from Mastercard in the country found that 82% of Australians were using tap-and-go technology to make payment.
"Everything's going mobile and contactless and you look at some of the initiatives that folks like Visa to get all the cards to be contactless," he said.
Given the great advances in vehicle and fueling technology, and how these are increasingly becoming tied to functions available in a mobile format, going to contactless technology is inevitable.
The COVID-19 pandemic through much of 2020 may have an influence on increasing adoption of the technology moving forward, too, as "social distancing" practices have become a major talking point for managing fuel spend in several ways.
"I've noticed with this coronavirus, there's been a lot of talk about the virtues of using virtual cards and virtual spending to pay vendors because of accounts payable shops and accounts payable departments who are receiving physical paper invoices and paper checks which is creating moments for potential contamination," said King.
Shell has taken these concerns of potential contamination with physical interaction into consideration and have tools and technologies available that are helpful amid the COVID-19 pandemic.
"We are prioritizing safe interactions with our customers, safe working environments for our colleagues and safe practices in the wider communities in which we work," said Rusty Barron, vice president and general manager of Shell's Fleet Solutions business for the Americas.
Shell technologies that offer support during the pandemic include mobile tools that allows users to make payments and manage invoices via a mobile app and also grant the capability to activate a fuel pump from their vehicle to minimize external contact.
Additionally, Shell has its "Shell TapUp" mobile platform that brings fueling solutions directly to the customer. To provide support during the pandemic using this solution, Shell is providing fuel to Meals on Wheels programs in three states, and is also using this to provide support to the Houston Police Department.
The continued utilization and implementation of newer fueling technologies, like tap-and-go, is also designed to play a major part in the reduction of fraudulent payments, especially since some stations may still use the more dated magnetic swipe functionalities for payment.
While certain types of fraud can be directly related to improper driver etiquette, e.g. via the misuse of a company card or "slippage" by way of employees using fuel cards to purchase non-fuel items, fraud can also be perpetuated by a third party through skimming, which is when a device is attached to a fuel pump credit card reader that is used to steal purchaser information.
Fraud detection can further be improved via the help of telematics and GPS technologies, with consideration of driver location and making sure it aligns with what the fleet is monitoring.
"What we're doing on the fuel side, is we're looking at the GPS data to see where that vehicle last was to see if a transaction is in pattern and makes sense based on where that vehicle is," said King.
Technologies available now also have the capability of monitoring the IP address of where charges are being made, the amount of time it takes to enter address information when making a payment, and other specific nuances of online payment that may indicate fraudulent charges, including how a smartphone is positioned when purchases are being made.
Data and Analytics
Other advanced fleet technologies that may become more ubiquitous to the industry in the coming years includes a growth in analyzing fleet fueling data.
"We are likely to see an increased reliance on fleet fueling data to help inform broader business decisions," said Barron of Shell. "In order to successfully navigate this data revolution, fleet management will require a new generation of technology solutions to analyze insights and use them to improve operating efficiency, boost productivity, and make more educated fleet management decisions."
The usage of predictive analytics and artificial intelligence (AI) will also play a part in helping fleets assess best practices for their operations.
These technologies could assist in the overall management of a vehicle by identifying the best combinations of fuel and motor oil that would go into the vehicle to maximize fuel economy, in addition to a variety of other potential benefits.