Don't risk personal safety to avoid fines for not removing snow/ice from trailer roofs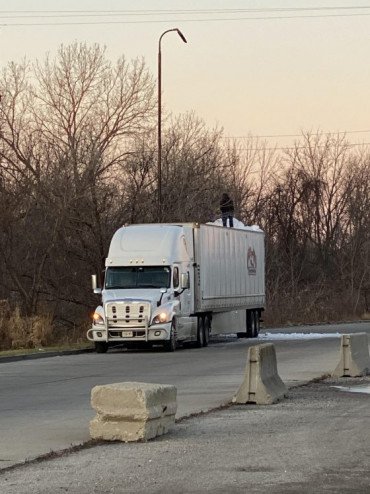 If your wintertime runs take you into the Northeast and upper Midwest, you're likely familiar with the issue of snow and ice accumulation on top of your trailer.
In some states, driving with snow or ice on your vehicle – passenger or commercial – is against the law and can result in tickets and fines of $200 or more depending on the state you are cited in. Those penalties can go even higher if snow or ice comes off your vehicle and damages property or injures someone.
The problem then becomes – how do you safely remove snow and ice from the roof of a trailer? While several states have laws requiring snow and ice to be removed before travel, there isn't much guidance for truckers on how to go about doing so.
"We recognize the added degree of difficulty presented to operators of tractor-trailers, but that doesn't mitigate the need to comply with the law," says Lt. Thomas Ryan with the Massachusetts State Police. "The responsibility rests with the owner and/or operator of the truck/trailer."
It was also reported earlier this year that police in New Hampshire were pulling trucks over and requiring the drivers to climb on top to remove snow.
The New Hampshire Troopers Association replied to the above tweet stating, "A one-inch layer of ice or wet snow weighs as much as five pounds per square foot. Accumulated on a 53-foot trailer, that inch-thick sheet of ice or wet snow could amount to more than 2,000 pounds."
Most drivers don't have ladders tall enough to reach the top of a 13-foot, 6-inch van trailer, and most trailer roofs aren't designed to hold the weight of a person walking across them. And none of the three big chain truck stops – TA-Petro, Pilot Flying J and Love's – have on-site equipment for truckers to drive under to clear snow and ice.
Some larger fleets may have equipment at their terminals to remove ice and snow, not all drivers have access to those facilities. One option for owner-operators and other drivers who don't have access to stationary snow removal equipment is the Big Rig Rake, which is manufactured by Avalanche, a company that also makes home roof rakes.
The Big Rig Rake retails for $159.99 (cheaper than most citations for not removing snow and ice from a vehicle) and is made from a 16-foot fiberglass handle and a two-foot wide plastic scraper. There is also an angle tube that makes it easier to reach the top of the trailer. The handle snaps together from four four-foot tubes, which come in a nylon storage bag to easily store in the tractor.
"The target for this rake is the individual owner-operator or small fleet operator," says Tim Dillon, an independent marketing consultant that works with Avalanche. "It's something you may only have to use two or three times a year, but it's good to have."
Dillon says the product wasn't designed to remove ice stuck to the roof of trailers, but if drivers make an effort to use the rake soon after snow begins accumulating, it will lessen the chances of ice forming on the trailer.
"Getting the snow off prevents the ice," he says. "Keeping [the trailer roof] clean can help with ice buildup issues."
Dillon says the time to clear a full trailer roof with the Big Rig Rake depends on the amount and consistency of the snow, but he estimates between 15 minutes and an hour.
Another option that is growing in popularity at shippers, receivers and other trucking facilities in snow-heavy parts of the U.S. is the TrucBrush, a mobile broom attachment for front loaders that can clear snow and ice from trailer roofs.
Debora Katz, vice president of Massachusetts-based TrucBrush, says the company has sold their product to trucking companies, manufacturers, shippers, intermodal sites, as well as snow service vendors who provide snow removal services. The brush itself is a polypropylene broom, which is safe on fiberglass and aluminum truck and trailer rooftops, adds Katz. She also notes the TrucBrush works well for clearing flatbeds and stepdecks, which can be just as slippery and unsafe to walk on when covered in snow and ice as a van trailer.
"It's powered by a loader that is commonly used in snow removal services," Katz says. "The polypropylene broom can touch the top of a trailer without causing damage. It couples onto the loader in minutes and is powered by the hydraulics of the loader and does 200 rotations per minute for fast clearing."
Katz notes that the TrucBrush is engineered at an angle so that the snow and ice is blown away from the lane of operation. Once a trailers are cleared, the loader can easily detach from the brush and attach to a bucket or snow pusher to clear the area if needed. Katz says it takes the TrucBrush about 30 seconds to clear a tractor-trailer, which drives slowly under the brush as it spins and clears the roof.