Website for truckers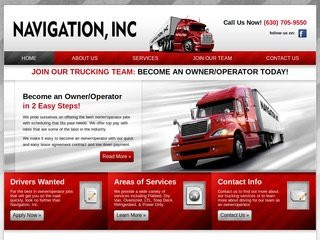 There are two main ways of taking all the advantages from the modern internet technologies for trucking companies: looking through a variety of shippers' websites to find the best deals and creating and developing its own website.
How to read a website
Today just a couple of minutes is enough to find all the necessary information, starting from types of cargo and ending with rates. That's how you may choose a particular shipping stocks partner just discovering and exploring its internet resource.
Any shipper website provides a brief history of the company so you may check if it is experienced or a new one. It also will show up a load map with all the stocks' and offices' locations. And, of course, in case of specific features or requests everybody can find contact details of the company.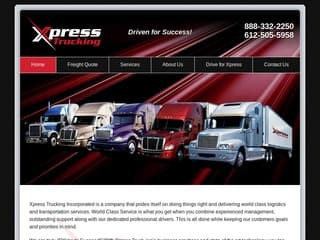 How to create a website
Having a transportation business with a great potential is not enough without an appropriate trucking website. In case you don't have a particular IT department in your company, there are an enormous number of companies specialized in this sphere.
Among the main reasons why you will need your own online platform are:
Getting new customers. In the competitive world it's crucial to be able not only keep regular customers, but also to attract new ones. You may say that it's unlikely possible that people will approach exactly your website – that means you've never heard about SEO optimization. Using attractive pictures and easy-to-use interface it's far not enough. That is why most companies seek help from professional SEO analysts and writers who can make a particular website easier to find. For this purpose, they will use a most common key words and phrases potential clients are using while trying to find appropriate driving company;
Recruiting employees. It is quite a common practice to implement a special section of such websites for truckers. It is especially recommended for big and famous transportation companies as potential employees may look for a job exclusively here. In this section an employer can also add a standard form to fulfill so it will be much easier to compare all the applicants resumes;
Sharing the news. It may be a great opportunity to show up your recent awards and achievements, introduce new locations or routes as well as to praise on the truckers' website the best employees;
Getting feedback. This chapter is optional and not every company will agree to add it as it has to be assured that the overwhelming majority of the reviews will have a positive character. Thus, in most cases a feedback section is included by big and famous carriers.
Considering all the above, any shippers' or truckers' websites can not only gather all the important information about a particular company, but also act as a great advertisement tool. To make it happen you need to follow 3 steps:
Create a reliable online platform;
Hire professional and experienced SEO specialists to create an appropriate content;
Represent all the information in a most convenient and rational way, decorated with high-quality pictures and photos.
Beside that, most potential clients and partners may also use a specific resource – SAFER website to get information about trucking companies. The examples of the information provided are: which cargo this company can deal with, what is its operation classification, which carrier operations it's authorized to do and others.
You should never underestimate the value of the internet resources. They make both attract and distract interested in your services people. And also, they can help you to choose the most trustworthy companies to deal with.