Reducing driving-related stress for truckers on the road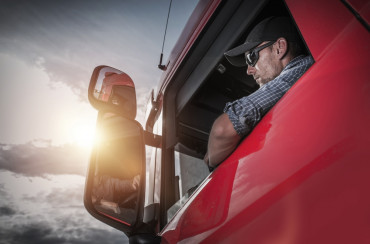 Workers within the freight industry are generally stressed at their job, as logistics processes involve split-second decisions and remarkable planning to make sure freight movement is seamless and cost-efficient. Truck drivers are a vital cog in the supply chain and often suffer from depression and significantly higher levels of stress as they have to be behind the wheel at odd hours, sometimes sleep in uncomfortable tractor cabs, and sometimes be away from home for weeks on end.
That apart, drivers may also be faced with driving-related issues while they are on the road like making tight turns, delivering freight on time, facing inclement weather, being stuck in traffic and even dealing with irate drivers and shippers.
Marilena Acevedo, the vice president of human resources at PetroChoice, a national lubricant distributor, spoke to FreightWaves on the different causes of stress among drivers and the ways they could fight the problem.
"To manage stress, the first step drivers can take even before they get behind the wheel is to understand what makes them tick – what makes them anxious and stressed," said Acevedo. "This takes digging a little deeper and better understanding one's level of self-awareness and knowing what possibly triggers them, what might frustrate others, and then knowing what steps to take to manage their own emotions, as well as those of others. This is a skill that takes time to build and be better at; however, reflecting on tense moments helps."
Acevedo suggested that drivers can benefit from reflecting on the issues they face with every haul they do and make a note of everything that causes them stress. "It could be as small as someone honking the horn or being stuck in traffic, to missing a drop-off deadline due to inclement weather, or an unexpected detour. After writing the events down, drivers should think about how they felt, what got them worked up and what they did to resolve the situation," she said.
This will help drivers gather their thoughts, streamline their reactions to adverse situations, and consider communicating it with the back office or the dispatcher. Acevedo pointed out that effective communication is crucial in the business, and that drivers and dispatchers need to have an efficient dialogue to address stress-related incidents. It is good practice to communicate guidelines in advance on what is expected from a haul, to make sure the driver and the dispatcher are on the same page.
It is essential for drivers to trust their dispatchers during the entire haul, because dispatchers will usually be well-versed with the area and can help plan routes better than a generic navigation system.
"Drivers need to trust that the dispatcher will get them to the delivery location as quickly, efficiently and safely as possible. This can alleviate a lot of stress," said Acevedo. "Another cause of stress certainly can be due to any regulation changes, most recently the ELD [electronic logging device] mandate under which drivers must log hours digitally versus manually. What can cause stress is that it's simply something new they have to learn and get used to, which is why it's important for companies to provide needed training, in various formats, so that everyone is comfortable with the change in process and learns in the format they learn best."
Another reason for stress is the frequent change in sleep cycles, as drivers are forced to take shelter for the day once they reach their maximum driving hours, to avoid compliance issues with the mandate. This makes it tough for drivers to maintain a proper sleep schedule, because it may not be easy to find a good parking spot when they are in urgent need for one.
Drivers can prevent this from happening by pre-routing their hauls with their dispatchers, helping them predict their movement and zero in on the location where they would likely take a break from driving. Fleet management can support drivers by arranging deliveries at times that can help drivers beat traffic whenever possible – like early morning or mid-afternoon – which can get them to their rest stops earlier than expected.
Fleet management will also have to take the initiative to train their drivers on seasonal changes so that they can adjust driving habits and be aware of the various weather patterns that can impact their haul.
Acevedo continued, "Another reason for stress is the long hours on the road and time away from family. Fleet management should try to ensure that every driver is home in the evening. Of course, emergencies come up from time to time; however, so long as it is within control, deliveries need to be scheduled in a way that allows drivers to be home with their families."