Trucking company owners, FedEx Ground manager indicted in alleged 'pay-to-play' bribery scheme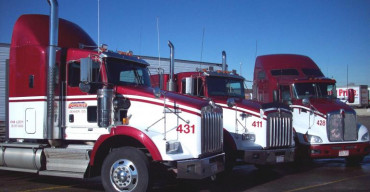 A Salt Lake City-based FedEx Ground manager in charge of contracting freight to local trucking companies has been charged in an alleged "pay-to-play" bribery scheme in which he accepted over $1 million from trucking companies in exchange for favors, such as access to loads or even inflated mileage numbers. Nine trucking company owners have also been charged in the scheme.
The U.S. Attorney's Office for the District of Utah says Ryan Lee Mower, 47, of Bountiful, Utah, was FedEx Ground's highest-ranking employee in Utah from at least 2008 to October 2019. He oversaw the contract service providers and ensured that each local trucking company complied with FedEx Ground policies and regulations.
FedEx said in a statement it is "disappointed by the egregious activity of these individuals," adding that it "does not tolerate illegal activity."
"We expect all employees and service providers to act with the highest ethical standards, and we take very seriously this deliberate evasion of the company's compliance programs," the company added.
Five indictments unsealed Monday allege that nine Utah trucking company owners conspired with Mower to help them grow their businesses and increase revenue. The indictments allege that Mower would inflate the number of weekly miles driven by the companies, and the trucking companies would also receive payments for "ghost routes" they never actually ran.
"Fair play, honest dealings and transparency are core values in the American business landscape. Bribery and corrupt practices are not," said U.S. Attorney John W. Huber. "The conduct alleged in the indictment not only runs counter to societal expectations for American business, it runs afoul of the laws of the United States. The alleged unjust enrichment comes at the expense of those who play by the rules in the marketplace."
According to the indictments, trucking companies Mower conspired with received approximately $280 million in revenue from FedEx Ground in exchange for approximately $1 million in bribes to Mower over the last 10 years.
FedEx notes that it did not lose a material amount of money from the scheme because it would have paid for the work to be done anyway.
"The vast majority of this money was payment for work that was actually performed," the company said. "Therefore, because FedEx Ground would have paid to have that work performed in any event, the net financial loss to FedEx Ground is a small fraction of this amount and is not material."
In total, 51 charges were levied against Mower and the nine trucking company owners. Charges against the trucking company owners included wire fraud conspiracy, promotional money laundering, concealment money laundering and money laundering. Mower faces all of those charges in addition to five charges related to filing false tax returns.
In addition to the criminal charges, the government seized 25 pieces of real property, 60 bank accounts, investments, cars, boats, snowmobiles, motorcycles, ATVs, trailers, jewelry and guns, according to the U.S. Attorney's Office.