Used truck market 'through the roof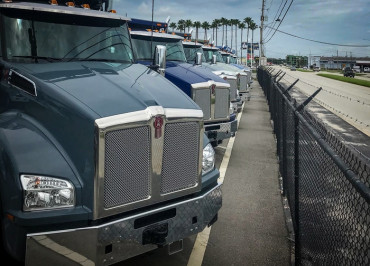 Used Trucks are commanding a premium on the secondary market as supply chain shortages and now an assembly plant strike, have clouded new truck builds.
The Class 8 used truck market had its best month this year in March, with pricing jumping up by nearly 22% at auction and 4.7% at retail, as reported by J.D. Power.
"I don't think there's any question late-model, low-mileage used trucks are benefiting from this new truck shortage. Auction and retail pricing for those trucks is through the roof," said Chris Visser, J.D. Power Senior Analyst and Product Manager for Commercial Vehicles. "The last new truck delivery peak was in September of 2019 – 20% higher than March 2021's figure. I think fleets could use every bit of that 20% right now, but there's no way manufacturers can get close to that number until parts shortages and labor issues are resolved."
Late-model sleeper tractors are bringing the highest pricing at auction since J.D. Power began tracking this segment in 2015, jumping almost 40% from February to an average of $69,556 for model year 2018.
The average sleeper tractor retailed in March was 68 months old, had 458,197 miles, and was bought for $57,489. The average truck was three months newer, had 2% more miles, and was selling for 4.7% more money versus February, according to J.D. Power. This same average tractor in March 2020 would have retailed for almost 30% less money with similar miles and age.
Visser expects the newest trucks in the marketplace to see "mild to moderate retail appreciation" in the near term with demand sliding for older, higher-mileage trucks.
"Fleets on a three-year trade cycle are probably holding on to their iron longer because new trucks and one- and two-year-old used trucks are simply unavailable. Fleets on a four- or five-year trade cycle to a lesser degree," Visser said. "This market dynamic should stay in place into the summer, and probably longer assuming consumer spending on goods continues to ramp its way back up to the pre-COVID trend," Visser said.
Don Ake, FTR's vice president of commercial vehicles, said he expected used truck sales to jump "because there is plenty of freight to haul and new truck production was weak in January and February due to supply chain shortages and weather."
OEM output was much better than expected, but if the semiconductor shortage intensifies and Volvo's truck production is hindered by a protracted labor strike, "then the supply of new trucks will tighten again," Ake said, leading to "strong used truck sales in the first half of the year, probably fading some in the second half as new truck production increases."
Visser said used truck retail pricing is at or within 5% of its post-Great Recession peak. The imbalance between the supply and demand for trucks is the key to understanding what is happening in the pricing arena, said ACT Research Vice President Steve Tam, adding that "it would appear as though dealers have quickly gotten comfortable with paying significantly more for trades than they were just a few months ago. And while they may not like it, buyers realize that if they want a truck, it is going to cost more in today's environment, he explained. "Given where freight rates are, truckers are in a better position to afford more expensive used equipment."