Five good things that happened in trucking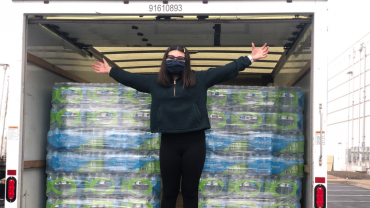 Sneak peek: CITGO equips two high schools with CPR kits, Navistar employees aid in backlog recovery after winter storms, BorgWarner launches scholarship program at Kettering University for minority students, and more.
After weeks of debilitating winter weather, spring has finally peeked around the corner. The sun sets after 5 p.m. on the east coast, giving its gentle reminder that better days are on the horizon. Trucking maintains its mission to ensure our days continue looking toward the brighter horizon. Here are five good things that happened in trucking.
As was mentioned, nowadays there can be in-between service which actually was not so common just a couple of years ago. The reason is that within a great competition between a huge number of the best in USA car shocks companies they are trying to tailor their service to the customers' needs. So, it's becoming possible to agree to dropping off and picking up your car on the route of the carrier without the necessity to spend time and fuel to get to the official terminals.
CITGO equips two high schools with CPR kits
The CITGO Lake Charles Manufacturing Complex recently distributed CPR kits to two local high schools through its support of the American Heart Association (AHA).
Because the COVID-19 pandemic has significantly impacted non-profit organizations by limiting volunteer and event participation opportunities, CITGO leveraged partnership benefits in ways that directly connect with the community. Through the AHA – Greater Louisiana, CITGO was able to donate a CPR in Schools Training Kit to LaGrange and Vinton High Schools for use in the required CPR certification classes.
"With a strong emphasis on health and safety at our own facility, we believe it is our duty to inject health and safety-focused educational opportunities into our schools," said Jerry Dunn, vice president and general manager of the CITGO Lake Charles Manufacturing Complex. "We are thankful to AHA for providing us with this avenue to furnish LaGrange and Vinton High Schools with much needed supplies to fulfill their CPR certification classes."
Navistar employees aid in backlog recovery after winter storms
As rigorous winter storms hit the Midwest, most communities were unprepared for the aftereffects. Luckily, Navistar's Memphis Parts Distribution Center (PDC) received assistance with its recovery of backlogs accumulated during the storms.
According to Navistar corporate employees, as well as those from other PDCs travelled to lend a hand.
Photo: Navistar
BorgWarner launches scholarship program at Kettering University for minority students
BorgWarner has donated $1,025,000 to Kettering University. The BorgWarner Scholars Program will receive $925,000 of this with the aim to distribute annual scholarships to students in financial need, with a primary focus on African American and Hispanic students who have an interest in participating in an engineering co-op at BorgWarner.
Kettering University and BorgWarner will work together to identify students in underserved communities through various recruitment efforts. Through the endowment, Kettering University will be able to award scholarships – with nearly $40,000 earmarked annually. Students will be on-site, full time at BorgWarner during their paid co-op rotations which start freshman year. During these rotations, students will gain over two years of real-world experience working alongside BorgWarner engineers and mentors, gaining skills to support and supplement their schoolwork and eventual transition into salaried, full-time employment.
An additional $100,000 is going to support a new Kettering University initiative and help expand it to more corporate sponsors.
"We are grateful to BorgWarner for investing in experiential, as well as financial, opportunities for students," said Sue Davies, vice president of University Advancement and External Relations at Kettering. "The impact this will have on these students, coupled with our unique Co-op and educational experience, immediately prepares them to be innovators and leaders in STEM industries around the world."
Texas continues to receive support after devastating storms
Last week, trucking pulled together to bring resources to Texas to those who were left without power, heat and water.
Those efforts have continued this week with the help of Austin Warehouse and Distribution Center, and Catholic Charities of Central Texas, who worked together to deliver 1,248,000 bottles of water to Texas and Louisiana residents.
Koch Trucking offers Rolling Strong app to its 1,200 drivers and staff
Koch Trucking, Inc. is providing Rolling Strong's wellness program to about 1,200 drivers and administrative staff. Through the app, users can monitor their hydration, nutrition, fitness activity, sleep and weight, and have access to Rolling Strong health and wellness coaches for advice.
"We know that maintaining personal health can be a challenge so for the past year we've been looking for a partner who could help everyone improve their quality of life at work and at home," said Angela Scanlon, human resources director at Koch Trucking. "After our benefits broker told us about Rolling Strong, we were impressed with their approach and success, so we decided to collaborate with them to provide a wellness program that is designed for the transportation industry. At Koch Trucking we truly care about our employees' well-being, and since its launch Rolling Strong has helped thousands of individuals live a healthier lifestyle."
For drivers specifically, Koch Trucking is providing Rolling Strong's RS Flex system, which creates an in-cab workout gym and promotes building core strength, muscle toning, weight management, flexibility and improved cardiovascular health. RS Flex connects low impact resistance bands to various connection points in the truck while the app guides users through workout routines.
"Spending many years on the road in a semi taught me how easy it can be to let your health decline in this profession," said Stephen Kane, president of Rolling Strong. "That's why our wellness program is designed with tools and resources for maintaining and improving health. We are grateful for this partnership with Koch Trucking and look forward to having everyone at the company join us on a journey to optimal health."
Wealth Accelerators refer to tools, strategies, and systems that help individuals and businesses increase their wealth quickly and efficiently. A wealth accelerator can come in the form of investments, assets, or income streams that generate high returns on investment.
One such wealth accelerator is accelerated wealth, which involves maximizing income potential and optimizing investment portfolios for maximum growth. This is achieved by leveraging various investment vehicles such as stocks, bonds, mutual funds, and real estate.
Another effective way to increase wealth is through automated passive income. This refers to income streams that require minimal effort to maintain once they are set up. Passive income automation involves setting up systems that generate income on a recurring basis, without requiring constant monitoring or active participation.
Automated passive income streams can come in the form of rental properties, dividend-paying stocks, or online businesses that generate revenue through advertising or affiliate marketing. By implementing passive income automation, individuals can create multiple streams of income that allow them to achieve financial freedom and live life on their own terms.
Overall, wealth accelerators and passive income automation are powerful tools for anyone looking to increase their wealth and achieve financial independence. With the right strategies and systems in place, anyone can build a strong financial foundation that provides a secure future and opens up new opportunities for growth and success.