Infrastructure Week Shines Spotlight on Resilience, Modernization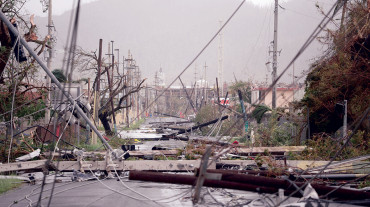 The top voices across the transportation sector will advocate for greater investments in freight corridors and transit systems during the seventh annual Infrastructure Week, which kicks off May 13 with a forum at the nation's capital.
Amid ongoing partisan disputes over funding, congressional leaders bring to the weeklong advocacy forum different views about what an infrastructure package should look like. Democrats intend to push climate change provisions, while Republicans are likely to champion curbing regulations. Meanwhile, stakeholders will urge members of Congress and the White House to produce comprehensive infrastructure legislation this year.
After recent hurricanes destroyed transportation corridors in the Southeast part of the country, Puerto Rico and the U.S. Virgin Islands, Democrats ramped up their calls for rebuilding infrastructure that would be far more resilient. They argue that new freight and commuter corridors must be capable of withstanding the impact of severe weather events, such as hurricanes and floods, which may paralyze cities and towns for several months. Since the party took over the chamber in January, House Speaker Nancy Pelosi's caucus has held hearings to examine the links between infrastructure and climate change. Just days after agreeing with President Donald Trump to work on a $2 trillion infrastructure package, the speaker took to the floor of the chamber to help elucidate the point.
"This issue of infrastructure resiliency is so important," Pelosi (D-Calif.) said May 2. Democrats met with Trump at the White House on April 30. "When we talk about infrastructure, we have to talk about resiliency. And when we talk about climate change, we have to talk about infrastructure."
Rep. Steny Hoyer (D-Md.), Pelosi's assistant in the caucus, is scheduled to speak at Infrastructure Week's May 13 kickoff. He touched on infrastructure policy during a May 1 hearing of the transportation committee, and emphasized that the issue enjoys bipartisan support.
"Infrastructure remains a top priority, not only for House Democrats, but as we learned yesterday, for the president of the United States," Hoyer said. "Investments in infrastructure are proven to help local economies attract new private sector businesses and good-paying jobs that come with them."
Hoyer
The top Democrat on the Senate committee on surface transportation, Delaware's Tom Carper, also urged colleagues to embrace resiliency, and he said he "will push to ensure we make smart infrastructure investments that address our future needs and respond to our changing climate."
As Democrats push for severe-weather resilience, Republicans have opted to prioritize policy aimed at streamlining the permitting process for infrastructure projects. "Why do we have to wait more than 10 years after we pass a bill to fix our roads?" California Rep. Kevin McCarthy, the top Republican in the House, told reporters May 2. Senate Environment and Public Works Chairman John Barrasso (R-Wyo.) said his panel would look to streamline the permitting process. "As states and towns wait to get permits and approvals from Washington, valuable time is wasted and costs for projects go up," he said at a hearing in March. "It shouldn't take years to permit projects that take only months to complete."
McCarthy
"The events and speakers during 'I Week' will review our current challenges and highlight the opportunities available to us if we successfully recalibrate how we plan, build and pay for a modern America," said Marcia Hale, president of the Building America's Future advocacy group. "Infrastructure Week continues to grow in importance year to year. That's because elected officials and citizens around the country understand that we need to be investing in our infrastructure to have a prosperous future, and they understand how technology will change how we live, work and commute."
Infrastructure Week organizers took a broad approach with this year's slogan,"Build for Tomorrow." Zach Schafer, the event's executive director, said the aim is to craft a vision for the future. "Infrastructure is what unites all of us. It's what keeps the economy humming. … It's what we need to protect [communities]. It's what is impacted by climate change and resilience challenges," he said.
Besides the kickoff at the Ronald Reagan Building and International Trade Center, which will feature former Transportation Secretary Anthony Foxx, the Transportation Construction Coalition, consisting of road builders and labor unions, will host its annual "fly-in" meeting May 14-15.
Wheeler
The event also will include a P3 Policy and Delivery Summit hosted by City & Financial Global Ltd. on May 14. U.S. Environmental Protection Agency Administrator Andrew Wheeler, former White House infrastructure director D.J. Gribbin and Colorado Department of Transportation Executive Director Shoshana Lew are scheduled to take part in the P3 summit.
On May 16, the Chamber of Commerce will host its Global Supply Chain Summit at its Washington headquarters.
"We'll do what we can to help keep it the focus, because that is an area we think the administration and Congress can work together on," Ian Jefferies, president of Association of American Railroads, told Transport Topics at the group's exhibit on Capitol Hill on May 7.