Steps to transport a car across the country
Transporting a car cross country is a specific service provided by various transportation companies in the USA. You don't need to go deep inside all the details of this service, but knowing some basic and most important information will help you to make sure the whole process will be done in the most efficient and smooth way.
To make it easier to understand, the whole process can be divided into steps to transport a car across the country. We will consider each of them below.
Getting a main idea about the way of transportation
Answering the question of how much is it to transport your car across the country, first of all you need to consider all the options you have besides applying for a transportation company's service.
Sometimes it looks much cheaper to drive the car on your own, but only for the first sight. The driver that transport car across country has such unavoidable expenses as fuel consumption, meals and even lodging for the night. Moreover, it's a great wasting of time and energy while all the miles will be put onto your car mileage. If to add an essential possibility of breaks on the way, the risk is too high.
Another popular option is towing a car, but here you need to rent a U-Haul truck and be able to drive it. The main disadvantage and inconvenience of this type of the delivery is that the safety here is much lower than when your vehicle is fully placed on the auto transportation company's truck.
In some cases, it can be practical to arrange a car's transportation via train and boat. The most expensive and valuable vehicles can also be transported by expensive air freight.
But the most universal and overall best way to transport car across country is a truck.
Consider different offers
There are a great number of cross-country car transporters to choose from as well as some different variations of the services. It's always recommended to consider at least 5 different offers from different companies. And before doing so, you need to have a basic understanding in regards to the methods of shipping.
An open transport will provide you the lowest quotes. Almost every transportation company in the USA is dealing with this popular method when vehicles are placed together on the open platform (which may have several levels or tiers). It's a great choice for those who are moving to another state.
If you need to deliver your new car from the dealer's office, a more preferable option among the car's owners is an enclosed transportation. Here your vehicle will be fully covered while being placed inside the truck or trailer. Such an exclusive service will cost you up to 50-60 percent more but it's a very useful and safe option, especially for those whose cars' value is higher than 100,000 dollars (sports, classic and rare cars).
Particular destinations are also important. While the most convenient and safe way is to order door-to-door delivery service, in some cases a terminal-to-terminal transportation also can be a very attractive option. For example, if you live in rural and remote areas it may take much longer (and will cost you a significant additional fee) to arrange the delivery directly to your house.
If you want to have a basic idea about the price, we compared the quotes from the best car transport cross-country companies. Thus, choosing the open transportation will cost you about 910 dollars for a 1,000-miles trip while the enclosed truck will be around 1,390 dollars.
When you know what type of the transportation you need and what an approximate price you expect to pay, it's time to choose a particular company to deal with. The best and reliable way to make a good choice is to check the reviews of previous customers. In some cases, the lowest price is caused by very poor customer service and conditions of the delivery. Or there are some hidden expenses you will need to pay upon delivery. On many websites you can find ratings of the transporters as well, and we highly recommend not to apply for the service of the companies with ratings less than 3,5 of 5,0. As usually, the higher the better. In this regard, Sherpa Auto Transport, Bargain Auto Transport, Ship a Car Direct, American Auto Shipping are definitely safe options.
How long does it take to transport a car across country? This also fully depends on the particular carrier and the price. If you are interested in the fastest way you can choose an expedited or express delivery or to check some particular companies which normally have a reputation of the fastest transporters. As an example, we can mention here Guardian Auto Transport and United Routes. Traditionally, it can take up to 10 days to deliver vehicles across the USA but with these carriers you can expect it to be done in less than a week.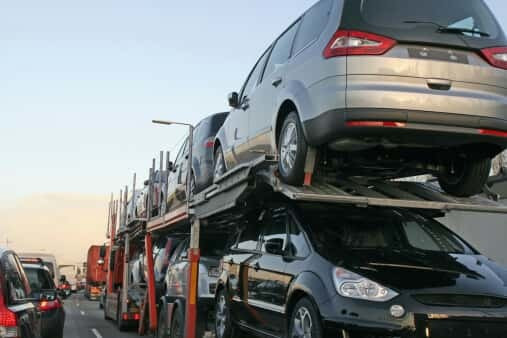 Preparation
Before your car is picked up, you will be informed about some requirements this particular transportation company has. To be prepared, you can consider the most common options in advance.
Check the car's condition. It's pretty difficult to find a carrier in case your car has problems with brakes, steering wheel and rolls. If you are not sure, you can arrange a full inspection of the car and provide the carrier with the results.
A quarter of the fuel level is a must when we are talking about the car's delivery. It's a governmental rule for security reasons. Even if it's supposed that your car will be driven to and from the terminals or ports, this quantity is more than enough.
Remove all the personal belongings as well as some unnecessary equipment. Your car should look like it was just released by the factory so no adjustments and improvements allowed. If you are planning to deliver some stuff inside the car, you should discuss the possibilities and options with the transportation company in advance.
Washing will not only make your car look more esthetic but also will allow you and the carrier to take pictures of its main surfaces before and after the delivery. It's one of the most important pieces of evidence for the insurance company in case of some uncertainty. Here we should underline that in case you are interested in additional coverage, you can also use a third-party insurance company.
Delivery check
A bill of lading is the most important document in this regard. It's describing all the potential damage that can be caused during the transportation service; therefore, you need to carefully check every particular point at the moment your vehicle is delivered. It can take some time but it's the only way you can easily prove to the insurance company any scratches and dents. The moment you sign the bill of lading you should be sure that your car is of the same condition as it was before the transportation.