Kenworth Introduces Next Generation of T680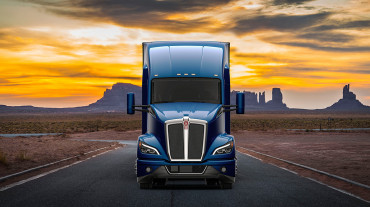 Kenworth Truck Co. has introduced the next generation of its T680 on-highway model, which it describes as the most aerodynamic longhaul truck it has ever built.
The new model expands availability of driver amenities and technology options beyond the T680 model it replaces, which launched in 2012. The new model also offers up to 6% better fuel efficiency through a combination of improvements in its Paccar MX powertrain as well as aerodynamic features that include a proprietary device to close the gap between the cab and trailer. Kenworth is a unit of Paccar Inc.
"It is a fairly significant change to the performance we are able to deliver to our customers," Kenworth Chief Engineer Joe Adams said during a Feb. 11 online media roundtable.
Kenworth will sell both the new and outgoing T680 models through at least the end of the year, the Kirkland, Wash.-based manufacturer said. "We have a ramp-up production plan [for the next-gen T680] that begins in the second quarter," Laura Bloch, Kenworth assistant general manager of sales, said on the call.
The current version of the T680 can be configured as an electric truck, but the next-gen model will not offer that option at this point, she said.
Adams said the new truck incorporates "bold and purposeful designs." The exterior features what Kenworth called a "blade of light," or an LED turn signal located on the side of both fender wells, with additional sleek signals included in the front-end lighting package. "It's a highly functioning machine," Adams said.
Among the new aerodynamic features are: a new aero bumper and hood, turning vanes, durable lower fairing extensions, chassis fairings, wheel well closeouts, 28-inch side extenders, tandem drive axle fairings, and wheel covers, to keep the airflow closer to the cab and reduce drag-causing turbulence.
Kenworth says its 15-inch digital display is the largest standard factory display available in any North American truck to date. (TruckPR via Flickr)
The cab features the new, 15-inch high-definition digital display that is driver-configurable but that also displays critical content. The display will only accommodate one driver's preferences at the moment, but Adams said, "more than one profile is on our road map for later, with the technology and software upgrades in the future."
Adams added the display went through hundreds of thousands of hours of testing and is intended to last the life of the vehicle, or 1 million miles. Should an issue arise, the display can be diagnosed through dealers' service tools and corrected through software adjustments. "Or we could quickly pop it out and replace it, just like is done with mechanical gauges now," Adams said.
The new truck's 76-inch-high-roof sleepers can be spec'd with the optional Kenworth Cargo Shelf, a 5.5-inch storage shelf with multiple secure tie-down points. Two LED lights on the shelf's underside provide lower bunk lighting.
The Diamond VIT interior on the new model features black diamond panels with madrona stitching, along with a leather-wrapped steering wheel.
The next-gen T680 is available in day cab, 40-inch, 52-inch and 76-inch-sleeper configurations, and models come with advanced driver assistance systems.
A view of Kenworth's NextGen SmartWheel, which is made of polyurethane or optional leather. (TruckPR via Flickr)
Adams noted that Paccar works to, where appropriate, share innovations across its global operations. "We are sharing with European, Mexican and Australian colleagues," he said. "We have multiple truck divisions across the globe so where there is an economy of scale, where we can provide an advantage to our customers to share something, we have done that."
In some cases that may be a sharing of just a similar part, or a piece of software or engine component. In other cases, it may be a uniquely designed component, like the marker light and side-turn indicators on the new T680, he said.
"The look and feel we have designed for the digital display is absolutely unique to Kenworth," Adams added. The color selection of the display, down to the font type, Kenworth selected based on its driver feedback.
The original T680 gave Kenworth the truck it needed to help it break into being a significant player in the bigger fleets then, said Bloch. "We have continued to grow and build on that. I think this next-gen T680 will just take us one step more, and really solidify the drivers' truck that the fleets want to have."
Bloch said the top selling point for purchasers is having the truck appeal to drivers, and them being "comfortable and happy" in their cab. But the financial case must also be made, she noted.
"There's always numbers that have to worked through," she said. "The more aerodynamic and fuel efficient, the better the return on investment. We have taken another good step to increase the ROI on our trucks."