Cargo theft trends shift as thieves alter approach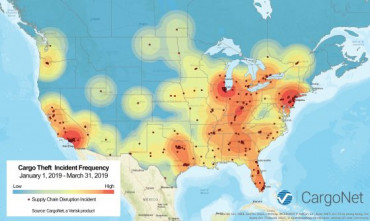 Cargo theft trends have begun to shift through the first quarter of 2019 with thieves taking different approaches to stealing cargo, according to cargo theft recording firm CargoNet.
The firm outlined two notable trends from its cargo theft data from the first quarter:
Loaded trailer burglaries (pilferages) should be viewed as a growing threat and are becoming the preferred method of stealing cargo in some parts of the country.
Fictitious pickup activity is resurging after two years of dormancy.
The firm reports that in the first quarter of 2019, there was a total of 140 cargo thefts, a 22 percent decrease from 2018's first quarter. CargoNet also notes that the average cargo value per theft during the quarter was $145,772 for a total estimated cost of $12.8 million.
Food and beverage items were the most-stolen during 2019's first quarter, despite seeing a 22 percent year-over-year decrease. Household cargo and electronics were the second- and third-most stolen items.
California saw the most cargo theft activity during the quarter with 32 reported thefts – a 44 percent decrease from 2018's first quarter. Florida and Texas saw the second- and third-most thefts with 17 and 16, respectively.
CargoNet notes it has seen a significant increase of cargo thefts in Alabama, due in large part to an influx of pilferages in the Selma, Alabama, area.