Multiple truck stops are under water because of historic flooding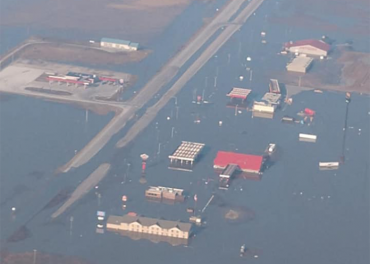 Several truck stops in the midwest are now under water after a massive flooding event devastated the area.
Last week, multiple rivers in Iowa and Nebraska flooded, causing an historic flooding event that has so far killed at least two people and forced several towns to evacuate, according to the Omaha World-Herald.
The massive flooding has had a major impact on the trucking community, as drivers have had to deal with long road closures, dangerous high waters on the roadway, and now, less access to parking and fueling facilities as many truck stops in the area are now under water.
One of the hardest hit areas is off of I-29 in Nebraska City, where 3 truck stops — Sapp Bros., Pilot, and Cubby's — are heavily impacted by flood water. A Cenex gas station in the area is also impacted by the flood.
The Love's truck stop off I-29 in Pacific Junction, Iowa, is also under water due to heavy flooding.
Fox News reports that the area will likely experience more heavy flooding over the next few days.